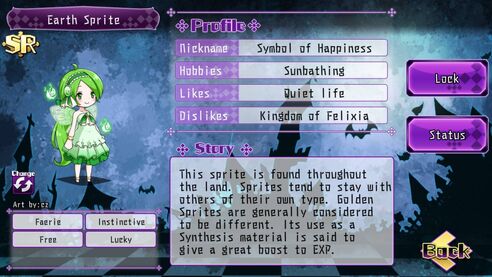 The Elemental Dwarf comes in all element types available in the game.
Fire
Earth
Water
Thunder
Light
Dark
Regardless of element, the Elemental Dwarf is available in all rarity levels (UR, SR, R, N). Additionally the individual element of the dwarf does not change its stats or the experience that each rarity provides during synthesis. While the Elemental Dwarf can be used in your party line up, this character cannot be leveled up or evolved. It is intended to be used for character synthesis.
The following biography and stats applies to all element types of the Elemental Sprite.
| Nickname | Hobbies | Likes | Dislikes |
| --- | --- | --- | --- |
| Symbol of Serenity | Gardening | Flowers | Slave traders |
| Themes | Species | Type | Limit |
| Faerie, Animal Ears | Special | (pending individual element) | 4x |
| Skill | Effect | Skill Cost | Party Cost |
| Just Deserts | Deals damage to an enemy | 15 | 10 |
Stats (LVL 1 - cannot lvl up)

Rarity
UR
SR
R
N
HP
?
?
?
806
Speed
?
?
?
151
Attack
?
?
?
152
Defense
?
?
?
251
Level EXP

(similar element as Dwarf)

?
240
?
105
Level EXP

(different element from Dwarf)

?
?
?
70
Skill EXP

(doesn't change with element)

50
50
Sell Price
?
?
?
100